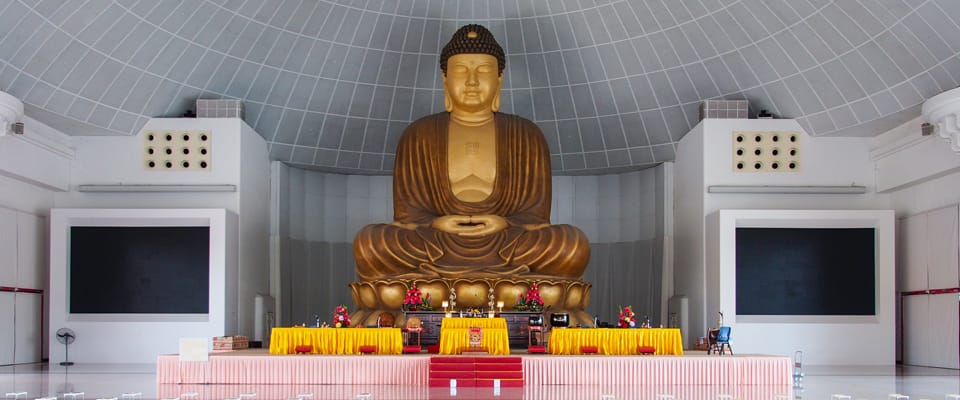 Kong Meng San Phor Kark See Monastery
88 Bright Hill Rd, Singapore 574117, Singapore
About this place
Kong Meng San Phor Kark See Monastery (光明山普觉禅寺), also known as Bright Hill Pujue Chan Monastery, is the largest monastery in Singapore. The name "Kong Meng San 光明山" translates to "Bright Hill" in English, reflecting the monastery's location on a hill. The monastery is led by the Venerable Kwang Sheng as the abbot. With its expansive grounds and serene environment, Kong Meng San Phor Kark See Monastery serves as a prominent center for Buddhist practice, offering various programs, retreats, and cultural activities for both residents and visitors.
普 (Pǔ) means "universal" or "general," indicating the monastery's aim to benefit and serve all beings.
觉 (Jué) means "awakening" or "enlightenment," symbolizing the pursuit of spiritual awakening and the cultivation of wisdom.
禅寺 (Chán Sì) translates to "Zen monastery," highlighting the emphasis on Chan (Zen) meditation and practice within the monastery.
So, 普觉禅寺 represents a place where people can come to practice Zen meditation and cultivate universal awakening and enlightenment.
Programmes/Activities
Taking refuge ceremony
Talks
Courses
Group practice
Dhamma school
Meditation
Retreat
Health & wellness
Family events
Community service
Shui Lu (Annual)
Ullambana (Annual)
Qing Ming Festival (Annual)
Vesak Day (Annual)
Facilities
Shrine Hall
Ancestral Hall
Memorial Hall
Carpark
Toilets
Zen Cafe
Vending machine
Sheltered walkway
Location
88 Bright Hill Rd, Singapore 574117, Singapore